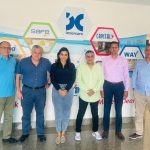 Intercare UAE's Visit to Intercare Egypt
May 19, 2023
The successful implementation of an enterprise resource planning (ERP) system is a significant milestone for any organization. Despite the hurdles faced along the way, Orion 11J ERP has recently gone live, marking a moment of triumph for the company. This article explores the challenges encountered during the implementation process and highlights the resilience and determination that led to the successful launch of the ERP system.
The implementation of an ERP system is a complex endeavor that often comes with its fair share of challenges. Orion 11J ERP faced various hurdles throughout the implementation process, including technical issues, data migration complexities, resistance to change, and tight project timelines. However, the company remained committed to its goal and tackled each challenge head-on.
Orion's journey to successfully implementing the Orion 11J ERP system demonstrates their determination to overcome challenges and their commitment to continuous improvement. By navigating hurdles with strategic planning, adaptability, and effective change management, Orion has achieved a significant milestone in their quest for operational excellence. Going forward, the company is poised to capitalize on the capabilities of the ERP system, driving increased efficiency, productivity, and success in their business endeavors.